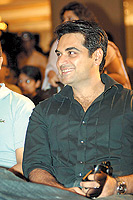 Humayun Saeeds' film Daag, which is based on true story of a rape victim will be starting in March 2011 reported Tribune.
The shoot for Daag was meant to start earlier this year but could not start due to the current flood situation in Pakistan, Humayun Saeed, actor and producer said, the shooting for Daag was delayed, keeping the safety of Indian film crew.
On the other Juggan Kazim is not playing the lead role as she is now replaced by a new comer.
"Shagufta Rafique and creative director Mahesh Bhatt sahib are looking out for a new face for the film that is why they are auditioning girls. According to them, Juggan is a pretty face but not a new one." says Humayun
Humayun Saeed also confirmed it to the Express Tribune that Atif Aslam, Ali Zafar, Rahat Fateh Ali Khan and Nouman Javaid will be giving the soundtracks for the film. No female artist has yet be been announced and no further details were given.
source: KM + Express Tribune
Also Check out: